Each year the OIG issues its annual Compliance Work Plan.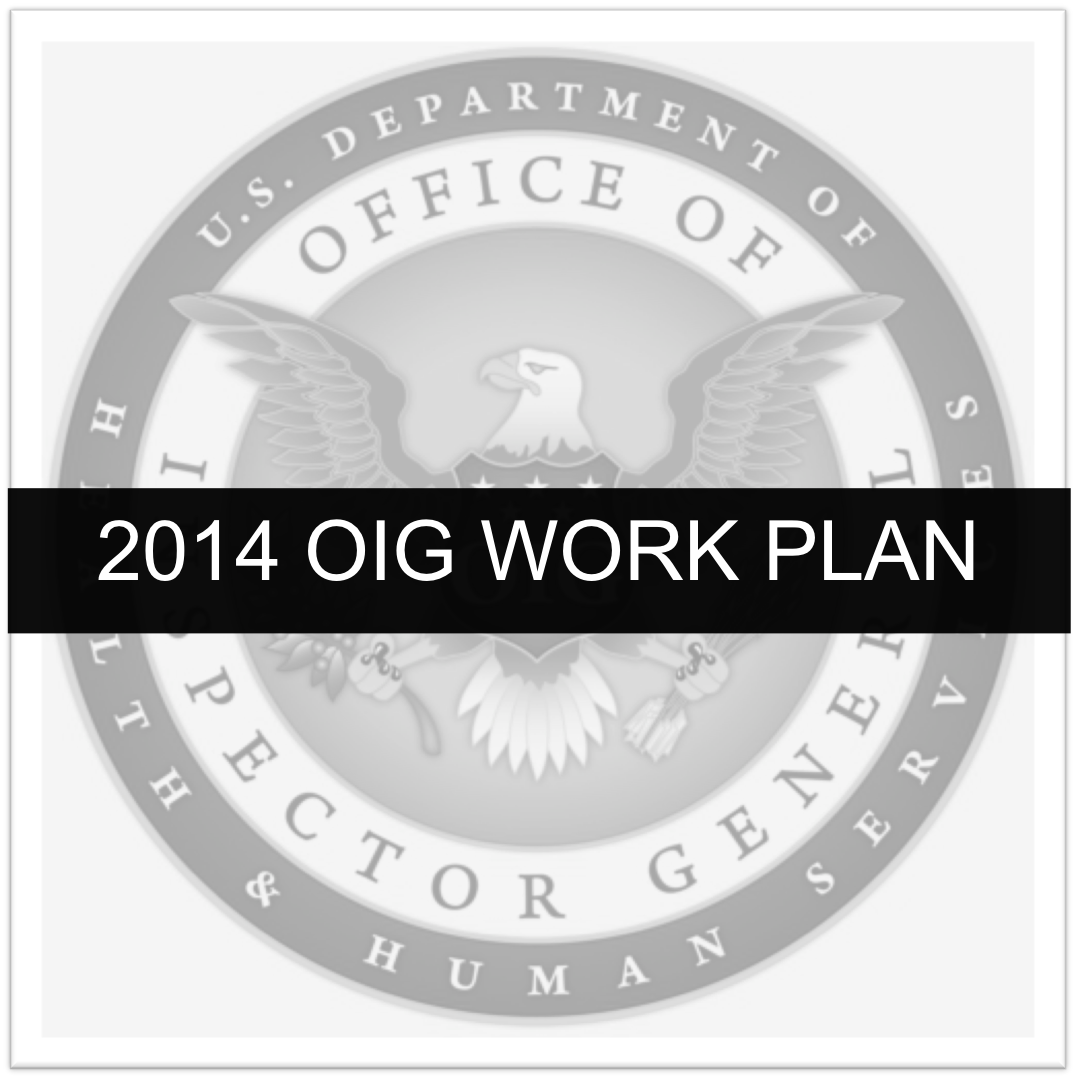 The purpose is to provide a roadmap with regard to what the OIG will focus on in 2014.
One of the unique things about this years' Work Plan is that it was issued in January, not October and that it is released around the same time as a 5 year Compliance Strategic Plan was issued by the OIG.
There are many aspects to the 2014 Work Plan. This post will focus on Section 4, Legal Activities.
Section 4 addresses the area of enforcement and what areas the OIG will focus to prevent False Claims Act submissions, Exclusions, and how a company will be held liable under a Corporate Integrity Agreement, as well as protocols to Self-Disclose to the OIG and reduce civil fines and penalties.
The OIG created a federal data set, List of Excluded Individuals and Entities (LEIE) as far back as 1981. OIG may exclude individuals and entities from participation in Medicare, Medicaid, and all other Federal health care programs for many reasons, some of which include program-related convictions, patient abuse or neglect convictions, licensing board disciplinary actions, or other actions that pose a risk to beneficiaries or programs. (Social Security Act, § 1128, § 1156, and other statutes.)
OIG exclusions are generally based on referrals from Federal and State agencies. The OIG works with these agencies to ensure the timely referral of convictions and licensing board and administrative actions.
In fiscal year (FY) 2013, 3,214 individuals and entities were excluded from participation in Federal health care programs. This represents an increase over the number of exclusions in 2012, and is consistent with the trend of increased civil fines and penalties for hiring, billing for items or services rendered by an excluded individual or entity.
Today there are over 56,200 excluded individuals and entities currently listed on the OIG LEIE.
We found three studies that the OIG will undertake in 2014-2015 that show where the OIG is focusing their efforts and determining compliance in the industry.
1. State terminations of providers terminated by Medicare or by other States
Program Integrity. The OIG will review States' compliance with a new requirement that they terminate their Medicaid program providers that have been terminated under Medicare or by another State Medicaid program. We will determine whether such providers are terminated by all State Medicaid programs in which they are enrolled, assess the status of the supporting information-sharing system, identify obstacles States face in complying with the termination requirement. Context—The new requirement became effective January 1, 2011. (Social Security Act, § 1902(a)(39), as amended by the Affordable Care Act, § 6501.) (OEI; 06-12-00030; expected issue date: FY 2014; work in progress; Affordable Care Act)
2. State collection and verification of provider ownership information
Program Integrity. The OIG will determine the extent to which States and CMS collect and verify required ownership information for provider entities enrolled in Medicare and Medicaid. We will also review States' and CMS's practices for collecting and verifying provider ownership information and determine whether States and CMS had comparable provider ownership information for providers enrolled in both Medicaid and Medicare. Context—Federal regulations require Medicaid and Medicare providers to disclose ownership information, such as the name, address, and date of birth of each person with an ownership or control interest in the provider entity. (42 CFR § 455.104.) (OEI; 04-11-00590, 04-11-00591, 04-11-00592; expected issue date: FY 2015; work in progress)
3. Provider payment suspensions during pending investigations of credible fraud allegations for Program Integrity.
This is a new study that the OIG will review payments to providers with allegations of fraud deemed credible by States. We will also review States' suspension of payments processes.
Context—Federal financial participation in the Medicaid program is not available for items or services furnished by an individual or entity when the State has failed to suspend payments during a period when there is a credible allegation of fraud. (Social Security Act, 1903(i)(2), as amended by the Affordable Care Act, § 6402(h)(2).)
Upon determinations that allegations of fraud are credible, States must suspend all Medicaid payments to the providers, unless the States have good cause to not suspend payments or to suspend payment only in part. (42 CFR § 455.23(a).) States are required to make fraud referrals to MFCUs or to appropriate law enforcement agencies in States with no certified MFCUs. (42 CFR § 455.23(d).)
The OIG will determine if select Medicaid State agencies are in compliance with these provisions. (OAS; W-00-14-31473; various reviews; expected issue date: FY 2015; new start; and OEI; 09-14-00020; expected issue date: FY 2015; work in progress; Affordable Care Act).
Summary and what every Compliance Officer should be focuses on for an Effective 2014 Compliance Plan and Program:
Monthly Exclusion Monitoring on employees, vendors and referring Physicians.

Know who owns more than 5% of an entity to avoid Stark Violations.

Detailed Fraud and Abuse training program and update/reminder programs for all staff.
Add SAM.gov (EPLS) and available state Medicaid Exclusion lists to ensure full and national search of state and federal excluded individuals and entities.
Transparency, open lines of communication through hotlines and contact with staff to avoid Qui Tam cases and to prepare for Self-Disclosure to OIG if necessary.
You May Also Like:
Differences in the OIG Exclusion List, LEIE and GSA
Exclusions vs. Termination