Stories, a powerful mode of communication, have been used throughout history to communicate simple yet powerful truths – and when told right, leave lasting impressions you will never forget.
Whether you are communicating to friends the gladness you felt the first time you met your significant other, or the fear in your chest and the sadness you felt when you learned your friend lies sick in the hospital; events told in a story format evoke feelings and stimulate the brain in ways that summary statements and bullet points can never achieve.
In Leo Widrich post, "The Science of Storytelling: Why telling a story is the most powerful way to activate our brains" on Lifehacker.com, he shares a fascinating story about the invention of the sandwich:
Above: A photo from my childhood that tells a humorous story about the
dramatic difference in my personality as compared to my older brother.
"In 1748, the British politician and aristocrat John Montagu, the 4th Earl
of Sandwich, spent a lot of his free
time playing cards. He greatly enjoyed eating a snack while still keeping one hand free for the cards. So he came up with the idea to eat beef between slices of toast, which would allow him to finally eat and play cards at the same time. Eating his newly invented "sandwich," the name for two slices of bread with meat in between, became one of the most popular meal inventions in the western world."
My guess is that the next time you see a sandwich, the image of John Montague eating a "sandwich" while playing cards will come to mind. And chances are high that you will share that same story to the people surrounding you.
Likewise, at ProviderTrust we have stories that help guide our actions and help us develop the culture we desire to co-create at a team.
One such story helps to remind me daily why "Ensure Quality and Accuracy" is one of our core business practices here at ProviderTrust.
While working a summer job during my sophomore year of high school, one particular morning I was binding books for a big client event occurring later that week.
After finishing a book that I knew wasn't up to our company's standards of excellence, I was getting ready to head out when one of my mentors, Doug Rath who co-founded TalentPlus with his wife Kimberly Rath, made a statement to me that I haven't forgotten. After inspecting the book I just finished, in a calm voice he said "Chris, if you don't have time to do a "good job" now, when will you have time to come back and do a "good job"?
Needless to say, that simple statement and challenge from Doug has helped shape me for the rest of my life.
In my younger years, his statement was the fuel to me practicing a few extra hours of soccer after my teammates had already left for home. That extra work was rewarded with back-2-back state championship and a college scholarship.
As an adult, Doug's statement continues to motivate me, driving me to help create great products that solve real world problems.
Time and time again, his statement pushes me through hard times and motivates me to not cut corners. It's a source of strength that encourages me to stay engaged in relationships and conversation, especially when there are disagreements and walking away seems a whole lot easier.
If you cut corners, avoid doing the extra work when life gets tough, or walk away when disagreements arise, you will most likely not achieved the excellence you desire for yourself.
Only in the struggles of the story, will the rough edges of your heart be smoothed out – opening the door for deeper revelation of your full potential and future excellence.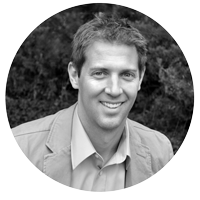 Chris Redhage, Co-Founder of ProviderTrust