Remember when you used to go to the doctor's office and sit in the waiting room (usually for at least 30 minutes past your "scheduled" appointment) to actually get to see the doctor? How old fashioned. Today, doctors are heard over the phone or seen via Skype. My, how treatment is changing.
Telemedicine:  What is it?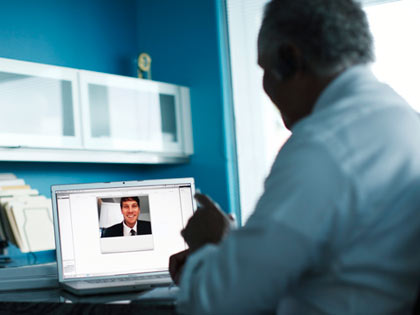 Telemedicine encompasses a growing trend of medical advice and review services provided remotely by a qualified and licensed healthcare professional.  It is also commonly referred to as e-health or m-health and can include online support groups, video education, remote monitoring, case review, self-management tools, or even diagnosis and prescription services.
The provision of medicine over the phone is called Telemedicine and it is catching on like wildfire.  Today Telemedicine is recognized as a way to reduce the cost of services and make more efficient and convenient care that does not require an onsite visit.
For today's "I want it now" generation, Telemedicine may be a viable alternative.  However, there are inherent risks, limitations and regulatory concerns this type of modern healthcare presents. Let's focus on one of them:  State Licensing.
State Licensing:
In order to be a health care professional such as a doctor, an individual must meet certain minimum requirements such as education, board certificates, training, licenses and required experience. State licensing boards issue medical licenses.  Each state has a separate licensing board, per specialty and, unlike Nurses, there is no recognized Medical Doctor Compact. Therefore, a doctor must be licensed by each state he/she is practicing in.
How do you define "practicing" medicine if the services are to be provided over the phone or internet?
A new proposal from a member of the Federation of State Medical Boards would make it easier for licensed physicians to apply for and be granted medical licenses in other states, thereby lessening a major obstacle for cross border or telemedicine provided medical services. 
The proposal would create a legally recognized and standardized interstate compact to allow doctors who are board-certified in at least one state and who have no history of disciplinary or legal action taken against them to receive an expedited license(s) from other states.  In order for this to work, state licensing boards would have to share information on physicians' histories with a newly created Interstate Commission that would oversee the process.
Under this proposal, the doctor would still be required to meet all requirements of the medical board in their issuing state.  The issue means that the doctor can provide medical services through technology into the state where the patient resides, and that doctor can obtain a medical license in that state through the compact.
The Federation of State Medical Boards recently revised their policy on telemedicine stating that a credible patient-physician relationship needs to be established before medical care can be delivered electronically. Standards of care that protect the patient during regular in-person interactions should also apply to when care is delivered electronically. Other key areas of medical practice that need to be adhered to include privacy and security of records, informed consent, and safe prescribing.
The issue of providing medicine and doing so in an efficient manner is evolving. Clearly there are benefits of using technology to inform and educate patients.  The question of how much regulatory oversight each state will need to have in order to make sure that quality care from qualified professionals occur in each state is a bit more complicated.
It certainly makes sense to unify and create a recognized national platform that would enable qualified physicians to provide care electronically, in certain circumstances.  At the same time, this is a revenue generator for states that regulate and issue licensure.  The most important factor is protecting the integrity of care and not creating liability by not regulating and being able to discipline unqualified doctors.
Time will tell when mirroring technological advances with old fashioned and personal care can intersect.
How do you feel about meeting with your doctor via skype or phone? 
Do you think this will make for superficial relationships between doctors and patients?

Read 13 Bizarre Ways the Govt Uses Tax Money
Learn more: The Verification Battle: NPI vs. SSN
Read 6 Key Points that Slash OIG's Call For Change
Michael Rosen, ESQ
ProviderTrust Co-Founder
LinkedIn