Yesterday at ProviderTrust, we had Thanksgiving in the office. And boy did we celebrate!
I must preface this post with a single statement: I L.O.V.E. Thanksgiving.
We started planning for this event last week, and as the week went on, it was exciting to see the sign-up sheet fill up with a vast array of delicious Thanksgiving dishes. We even ran into a mini tizzy over who got to bring the cranberries – Kent, our IT genius, won the battle.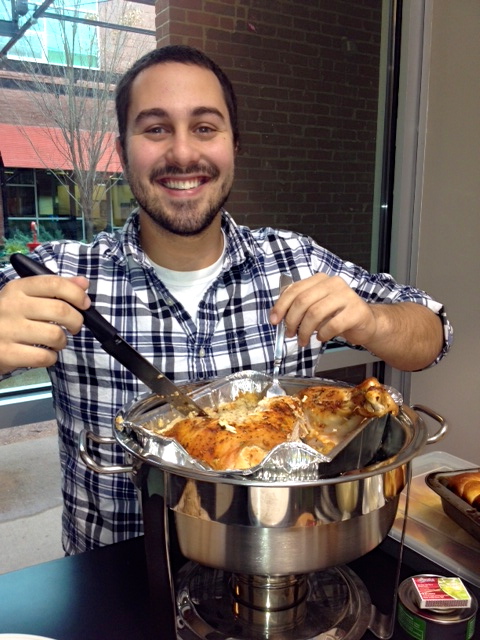 When the day finally came, we had everything from a beautifully glazed Turkey to creamy sweet potato casserole, garlic roasted mashed potatoes, cranberry sauce, green bean casserole, homemade rolls, Brussels sprout casserole, breakfast bagels, and delicate, rich pumpkin cheesecake.
Needless to say, by the end of this festive potluck, the pile of cleared plates sketched a pretty clear picture of how stuffed our bellies felt.
As we all gathered in the ProviderTrust lounge and the last few people finished seconds and thirds, our casual talk moved to a more thought provoking, inspiring conversation.
I think we'd all agree this was the highlight of our ProviderTrust Thanksgiving meal.
It began when our Co-Founder, Chris Redhage, made a simple request for each us to share one thing we that makes us feel thankful. He began with a personal story hard to follow, but all the more inspiring.
After hearing everyone share, it's safe to say we all feel spoiled rotten working at ProviderTrust. It goes without saying, it was a very special moment for all of us as we sat with our co-founders and conversed about all the many blessings that come with working in an environment like ProviderTrust.
We all feel safe, cared-for, accepted, strengthened, and most of all encouraged to embrace feelings, realness, and honesty in both our personal and professional worlds.
You know, sometimes its difficult going to work every day in the same place with the same people. The mundane doesn't always seem all that glamorous or exciting. However, I'd like to encourage you to seek out ways to pioneer a healthy environment in your workplace.
The person that makes it okay to ask, "How are you doing?" with genuine interest behind the question opens the door to real, authentic relationships for everyone else. Whether you have no title, manage a small team, or you own your own company, everyone has the ability to cultivate and change the environment around them.
Here at ProviderTrust, our co-founders relentlessly pursue creating a healthy workplace, and from our Thanksgiving meal yesterday, it's obvious we are all indulging in the benefits of their vision with grateful hearts.
Happy Thanksgiving dear ProviderTrust friends!